At Simon Lucas Bridge Supplies we produce our own range of luxury playing cards except we call our cards "Premium Playing Cards". We felt that the term Luxury Playing Cards was being overused by other retailers, who are actually selling standard quality cards badged as luxury.
Naturally as a customer, you might be feeling confused. This is why we've written about why our Premium Playing Cards really are luxury playing cards in the truest sense.
Playing Card Board
It all starts with the playing card board. This is the material that the playing cards are printed on to. We work closely with printer's to ensure that we obtain the best quality material to print on. The qualities we look for to make our luxury playing cards are board weight, board thickness and black lining.
Weight
Like all other papers, playing card board is measured in grams per square metre, shortened to gsm. It's measured by taking a piece of board size 100cm x 100cm and recording the weight in grams. Playing card board is made in a range of weights generally ranging from 275gsm to 350gsm or more. The reason for the weight differences comes down to the number of fibres within the board. Heavier board has more fibres, and lighter board has fewer.
The heavier the weight of the board, the longer lasting and more durable the cards will be. There is a point though where the board can be too heavy and the cards are difficult to shuffle, deal and hold. We have found that the best weight is 330gsm; anything less isn't as durable and heavier boards are too stiff. The lighter weight boards, 275gsm to 300gsm, are usually used for children's playing cards and novelty packs.
Thickness
You'd think that board made from more fibres must be thicker than that made from fewer. Strangely this is not the case. It all depends on how densely packed together the fibres are. A lesser weight card can be made more bulky by having looser fibres. But, when this board is made into playing cards, it won't take long to start to dog ear and fray along the edges. The best board for playing cards has densely packed fibres which makes the cards elastic and gives them their characteristic snap.
Black-Lined
Have you ever wondered why the edges of even a brand-new pack of cards look grey instead of a pristine white? This is because professional quality playing cards are always made using a board that has a black core. This lining is completely opaque and prevents any show-through between the front and back of the cards. So, even if you're playing next to a bright light, no-one will be able to see what cards you're holding.
Our Grading System for Playing Cards
Now let's have a look at the grading system that we use for the playing cards that we stock: Standard Quality, Superior Quality and Premium Quality. This is our own in-house grading system and only applies to the cards we sell – these terms won't apply to cards from other suppliers:
Standard Quality
The Standard Quality cards in our range are produced on 300 to 305gsm board. We don't use this board for our own-brand cards, but we stock these cards because they're available in a range of great designs that are very popular. They're not the longest-lasting cards, but you do get a choice of very ornate and attractive card backs, and new designs are available a couple of times a year. We only stock cards of a decent quality, so the Standard Quality playing cards in our range are still superior to many of the packs available from non-specialist retailers.
Superior Quality
Our Superior Quality playing cards are made from a good quality 320gsm board, which has good spring and shape retention. Made from better quality board than the Standard Quality, these cards are longer lasting.
Premium Quality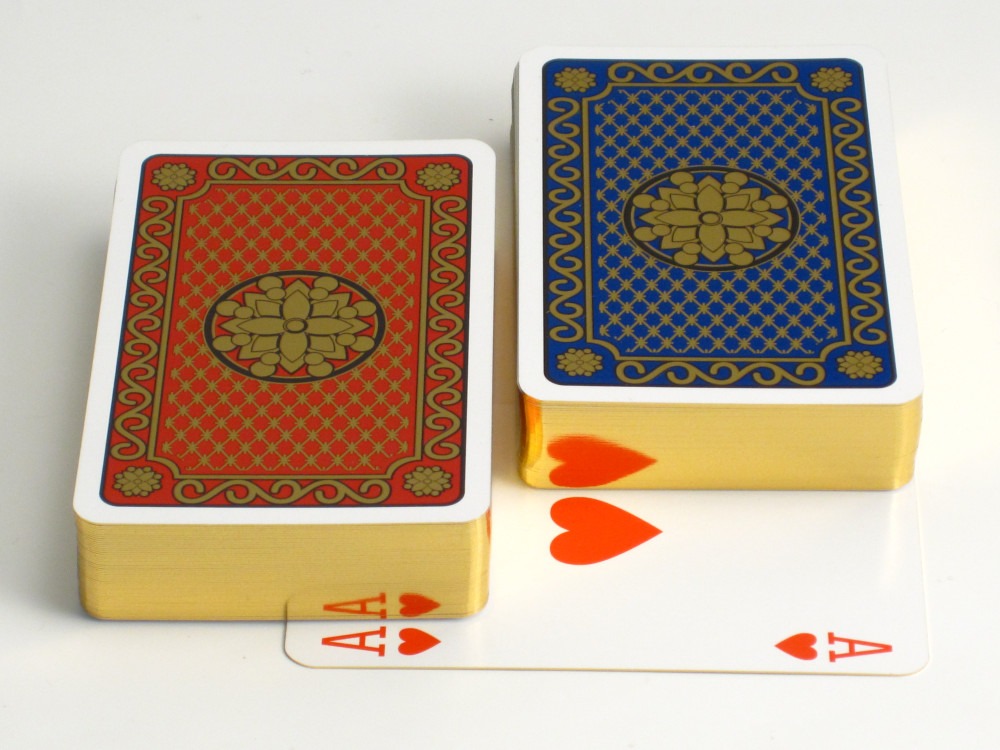 The Premium Quality playing cards are the crème de la crème of our range and are professional casino-quality cards. Black-lined for opaqueness, the beauty of the densely fibred 330gsm board is that it has optimum flexibility. Finished with a special varnish for the most favourable slip and handling, the cards are durable and a delight to use, providing a top-quality cardplay experience.
The most economical way to purchase the Premium Quality playing cards is to buy our '330' playing cards, so called because of the weight of the card from which they're produced. We supply these either unboxed (i.e. cellowrapped only), in tuck boxes or in presentation boxes. Because they're printed in a single colour on the card backs (red and blue) and we produce them in such large quantities, you can purchase these packs from as little as £1.00 each. So Premium Quality doesn't necessarily mean premium price!
Browse our range of Luxury Playing Cards Now!
---
Card Couture produce our playing cards for us. They design and produce bespoke playing cards, presentation packaging and box making for many different clients who choose them for their in-depth knowledge in this specialist field. They've produced the playing cards and the packaging for many prestigious stores and companies.