Due to the popularity of this Top 10 Apps for Bridge article we've updated and expanded it for 2019, featuring new apps. Below is a sample of the content in our guide. To get your copy of the guide as a handy download click the button below:
---
Funbridge allows you to play duplicate Bridge wherever and whenever you like and allows you to compare yourself with thousands of other players. With in-game ranking, you'll be able to make and chart your progress quickly.
This bridge app boasts an active community of Bridge players (50,000+ online at the time of writing) and with players all around the world. Furthermore Funbridge allows you to build upon your bridge knowledge as the app includes Practice Deals, Exclusive Tournaments – that you can create yourself – and commented Tournaments which includes advice from a Bridge champion after each deal played.
The Funbridge Interface
The design of this Bridge app is absolutely stunning and shows that the developers have put a lot of thought not only into the gameplay side of things, but have polished all of the user interface elements too, so that the app is easy to navigate around and a joy to use.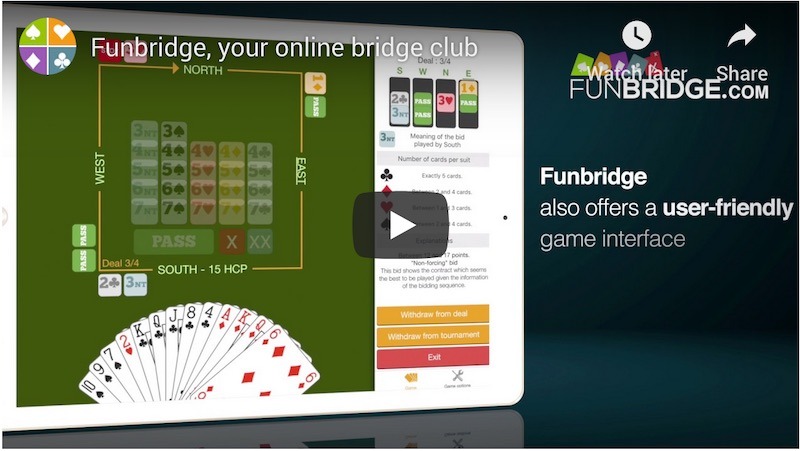 Pricing
The basic version of the Funbridge app is absolutely free, but the advanced features which allow unlimited play and challenges are available as a reasonably priced no-commitment subscription starting at £12.99 a month (21st November 2018)
Available to play on:
iOS (iPhone and iPad)
Android
Windows Desktop
Amazon Smartphones and Tablets
via Facebook
Find out more at https://www.funbridge.com/
---
To get a full and updated for 2019 copy of this guide to apps for Bridge, featuring 11 fantastic apps simply click the button below: