IN the fast-moving world of digital technology, it was only a matter of time before you can take a game or two of Bridge with you on the move. We've decided to do a round-up of the top 10 Bridge Apps that allow you to play bridge on the move or are useful to developing your game. These are the best bridge game apps available on the market for you iphone, ipad or android device.
If You Like This Article – Please Consider a Contribution
We're a small and independent Bridge supplier, to help support us and this article please consider making a contribution via the Paypal button below.

Thank You!
---
Funbridge allows you to play duplicate Bridge wherever and whenever you like and allows you to compare yourself with thousands of other players. With in-game ranking, you'll be able to make and chart your progress quickly.
This bridge app boasts an active community of Bridge players (50,000+ online at the time of writing) and with players all around the world. Furthermore Funbridge allows you to build upon your bridge knowledge as the app includes Practice Deals, Exclusive Tournaments – that you can create yourself – and commented Tournaments which includes advice from a Bridge champion after each deal played.
The Funbridge Interface
The design of this Bridge app is absolutely stunning and shows that the developers have put a lot of thought not only into the gameplay side of things, but have polished all of the user interface elements too, so that the app is easy to navigate around and a joy to use.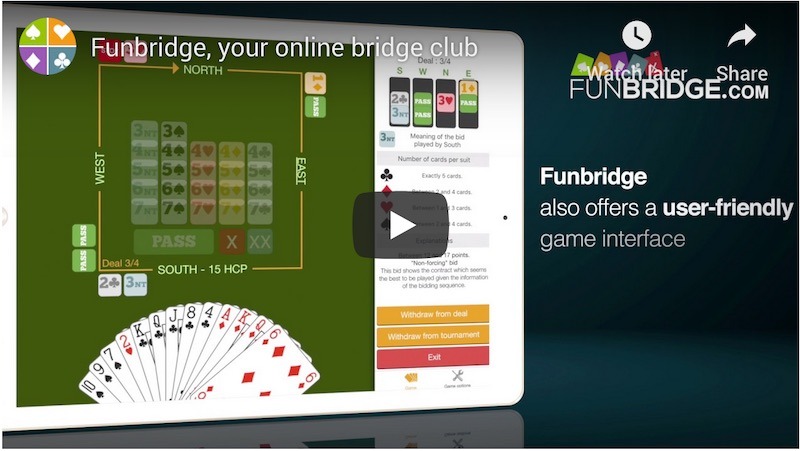 Pricing
The basic version of the Funbridge app is absolutely free, but the advanced features which allow unlimited play and challenges are available as a reasonably priced no-commitment subscription starting at £12.99 a month (21st November 2018)
Available to play on:
iOS (iPhone and iPad)
Android
Windows Desktop
Amazon Smartphones and Tablets
via Facebook
Find out more at https://www.funbridge.com/
---
The mobile versions of Bridge Baron are based on the best-selling desktop version of the game (available for Mac and PC), so now you can take your favourite computer based bridge game everywhere.
Bridge Baron for iOS and Android allows you to play online with your real life partner and together you can compete against the software's AI (Artificial Intelligence) or with players from around the world, even foes from rival bridge clubs!
Bridge Baron allows you to play Duplicate Bridge or Contract/Rubber Bridge and has a wealth of other options for you to craft the kind of game play you and your partner enjoy most. It also features seven different bidding systems, so there really are no restrictions to your style of play.
The Bridge Baron Interface
The interface of Bridge Baron is clear and straight forward and has been optimised for both handheld and tablet devices. Perhaps lacking a little of the finesse of Funbridge but more than makes up in functionality and playability.
Pricing
The Bridge Baron app on iOS costs £19.99 and on Android £12.99. The licence for the Mac and PC desktop versions of the game cost $64.95 (All prices as of 21st November 2018) but it is strongly advised to try the demo versions of the desktop games first.
Available to play on:
iOS (iPhone and iPad)
Android
Windows Desktop (XP SP3 / Vista / 7 / 8 / 10 )
Amazon Kindle Fire
---
The third Bridge app in our top 5 is iBridgePlus. This Bridge app unlike the previous two is based around an entirely different concept. When playing Bridge on iBridgePlus you only ever play against Artificial Intellegence (AI), so you don't need an internet connection, which is ideal for when you're on the move.
The AI in iBridgePlus is touted as the most advanced Bridge AI available. You play as South and your AI partner is North and opponents east and west. The difference with this bridge app is that you can tweak your partners and opponents bidding styles to simulate a real life situation. Which makes this a brilliant app to train with before your next tournament or club game.
The iBridgePlus Interface
The iBridgePlus interface has been recently overhauled with the latest version allowing full customisation of colours and fonts used in the app, so you can get the playing environment that works best for you. With a bold and pared down user interface, iBridgePlus is easy to navigate and allows quick access to the all customisable features that make this app, as one reviewer put it "Streets ahead of the rest!"


Pricing
iBridgePlus is free to download but offers "in app purchases" which range from a 100 Hand Top Up for £0.99 and a Lifetime Subscription for £13.99 (as of 21st November 2018) The app comes with first class support, so if you run into problems the people at iBridgePlus are more than happy to help out.
Available to play on:
Find out more at http://www.ibridgeplus.net/
---
This is a slightly different concept to the previous bridge apps we've detailed above, as Bridge Doddle is primarily a learning and training aid, from beginners to those seeking to perfect their game.
Bridge Doddle is based around a flashcard metaphor. Each card poses a bridge bidding scenario to which you need to think of an answer, you can then turn the card using a swipe of the finger to see how your answer compares with the preferred answer.
Another brilliant element of the Bridge Doddle app is that you can use it without an internet connection, meaning that you can truly play bridge anywhere!
The Bridge Doddle Interface
The Bridge Doddle interface is basic and highly functional, afterall it is replicating a flash card system, so doesn't require too many bells and whistles. With that in mind it is easy to use, with a tabbed interface that allows access to the most important features of the app.
Pricing
Bridge Doddle is free to download but offers "in app purchases" priced mainly at £10.99. The cost of monthly and annual subscriptions weren't clear from UK iTunes App store but the American store states $14.99 for a month and $74.99 for a year (as of 11th December 2017)
Available to play on:
iOS (iPhone and iPad)
Android
Amazon Kindle Fire
Find out more at http://www.bridgedoddle.com/
---
The Bridge Score Calculator is another bridge app that is designed to help improve your game and has been designed so that it is easy to understand for all players no matter what language they speak.
Primarily an educational app the Bridge Score Calculator can also be used by advanced players and profressionals as a handy point of reference.

The Bridge Score Calculator Interface
The Bridge Score Calculator interface like the previous app in our top 5 has a highly functional interface that is designed with utility in mind. The developers have made this bridge app to provide you with the answer you need in clear and concise manner.
Pricing
Bridge Score Calculator is incredibly well priced at just £0.79 (as of 21st November 2018)
Available to play on:
Find out more at http://bluestarships.com/android_apps/bridge_score_calculator
---
From the makers of the Funbridge app (number one our list) come the Funbridge Quiz Collection, each collection contains 500 bridge quizzes totaling 2000 quizzes in all. Each of the quizzes are designed to test different aspects of the game and they are spilt into the following 5 categories:
The right bid
The right hand
Card play
Forcing or not forcing?
Defending a contract

The Funbridge Quiz Collection Interface
The Funbridge Quiz Collection interface like the main Funbridge app has been well considered. It's very polished and pleasing to the eye, meaning that attention has been paid to the details. This app also includes statistics for all you number crunchers out there as well as a glossary of terms for those just starting out in the game, so a perfect for players of all levels
Pricing
Funbridge Quiz Collection is brilliant value for money at £23.99 (as of 21st November 2018) further more each quiz can be purchased separately for £8.99
Available to play on:
iOS
Android
Amazon Kindle Fire
Find out more at http://funbridge-quiz.com/en/home
---
BriJ is designed for newcommers to the game, but does require some basic knowledge. It has been developed to help new players improve their duplicate bridge play, with plenty of help hinting and guidance along the way. There is a pro version of the app available too, which allows you to play interactively with other users/players online and for a one off price allows unlimited random deals
The BJ Bridge Beginner Acol and BJ Bridge Pro Interfaces
The interfaces of the BJ Bridge Beginner Acol and BJ Bridge Pro apps are highly functional and squeeze a lot of information in, so best played on an iPad or tablet to have the most comfortable playing experience. The video below illustrates the kind of experience you'll get to enjoy if you purchase this app.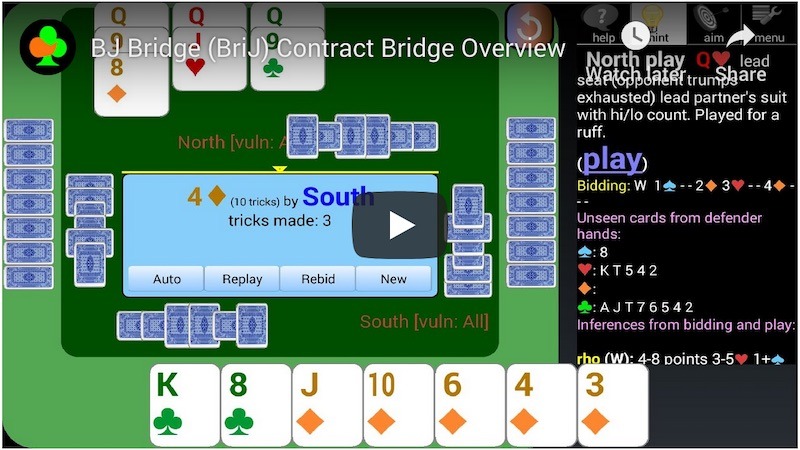 Pricing
BJ Bridge Beginner Acol and BJ Bridge Pro are incredible value for money. BJ Bridge Beginner Acol is FREE which is a no-brainer to download and try and the BJ Bridge Pro app is on £3.99 for unlimited play (as of 21st November 2018)
Available to play on:
iOS
Android
Amazon Kindle Fire
Find out more at http://www.bjbridge.org/
---
WizBridge Plus is the perfect way to pick up the game if you're a novice player, as you get to see your (virtual) partner's hand and can make a judgement about how to declare the play. Then it's a case of sitting back and making sure your fulfil that declaration. The app is based around the MiniBridge varient of the game, which makes it highly accessible.
If you're a more advanced player there is plenty in this app for you too, with duplicate, statistics and ranking. You can even take part in Duplicate competitions that run 24 hours a day 7 days a week, so no matter where you are in the world you can play your favourite game!
The WizBridge Plus Interface
The interface of the WizBridge Plus app is fantastic. It's very clean and minimally designed, so you can focus on the game play. See the video below for an overview of the game. It's a brilliantly amusing video so is worth a watch just for that!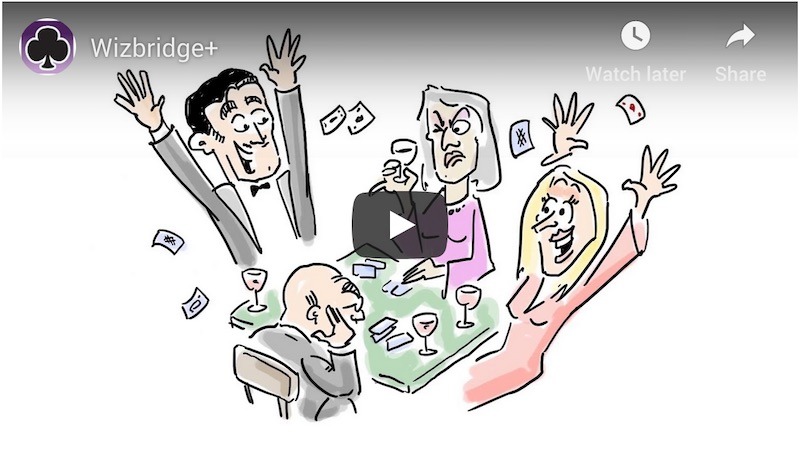 Pricing
WizBridge Plus like many of the apps listed here is absolutely free to download, but you'll have to pay for batches of hands, prices range from £0.99 to £6.99

Available to play on:
Find out more at http://www.wizbridgeplus.com/
---
The Learn Bridge App is squarely aimed at new players of the game, teaching the rules of bridge, basic card play and bidding strategy. The app contains over 1000 interactive practice questions that will allow you test your knowledge and build your confidence.
The Learn Bridge Interface
The interface of the Learn Bridge app is well considered, it's clean, clear and straight-forward. It works well at smaller screen sizes, and convey's a lot of information without the display looking cluttered. Furthermore it's been developed for tablets too, if you prefer a display that's a little bigger.
Pricing
The Learn Bridge App is FREE to download but does offer reasonably priced – £2.99 at the time of writing – addons to expand your knowledge.
Available to play on:
Find out more at http://www.learnbridge.com/
---
We Hope You Liked This Article – Please Consider a Contribution
If you found this article useful please help support it with a contribition to help fund this and future articles.

Thank You!
If you're interested in apps you might be interested to read our round up of the Top 10 E-Books for Bridge for iPad