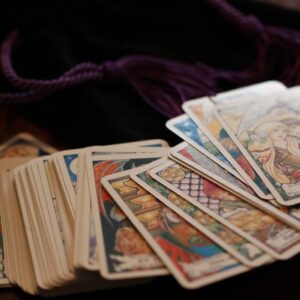 We can make Tarot Card Table Cloths custom made to order. Better still each cloth is made using the most luxurious British baize and trimmings
Simon has been making custom table cloths to order all of his working life. His craftsmanship is reached worldwide renown.
A Custom Cloth for Your Tarot Table
Baize is a great choice for a cloth to cover your tarot table. Not only is it hardwearing, it is also available in many beautiful colours. We make cloths out of 100% Merino wool baize which has sheen akin to that of velvet, but lasts far longer with use.
Furthermore the merino wool baize also has a softness and sheen to the finished side, for the added touch of luxuriousness. Our specialist fabrics website – Baize and Wool Fabrics – has fabric sample "feelers" for sale if you'd like to.
Made to Measure Tarot Card Table Cloths
Using our made to measure service, you can choose from one of the seven styles of cloth Simon makes and then add your own custom dimesions. Simon will then make your cloth to size.
If the seven styles we have in our made to measure section, aren't quite what you're looking for, we can make something completely custom for you. With a vast selection of trimmings to choose from we can also offer a number of other finishes too.
[gravityform id="1″ title="true" description="true"]