Julie Seabrook / Hey Jules Studio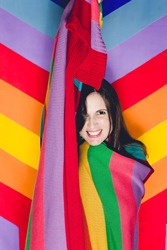 American artist Julie Seabrook Ream is mad about colour. Unable to pick a favourite, she set about showing the world that there is multicoloured beauty in everyday objects, from breakfast cereal and cheese through to butterflies and books.
Living in Ohio in the States, Julie is the creator of the beautiful book 'Encyclopedia of Rainbows'.
We stock a range of jigsaw puzzles featuring Julia's inspirational and colourful work.
---
Showing all 2 results