Search Results for:
premium 330
Premium Quality '330' Playing Cards – Red/Blue Pairs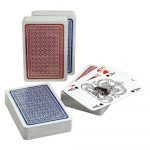 We only sell these cards in pairs of 1 red and 1 blue. Set the quantity of pairs you'd like to order then 'Add to Basket'.
For example, to buy a dozen packs of cards (6 pairs) add 6 to your basket. For a case of cards, add 108 pairs to your basket.
---
Premium Quality 330 Playing Cards – Presentation Boxed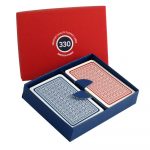 Premium Quality 330 Playing Cards Presentation Boxed Buy the Simon Lucas Premium Quality 330 Playing Cards Presentation Boxed so that you've got a smart handmade box to store your cards in. Our Premium Quality 330 playing cards have regular 4-index faces and are bridge-size cards. Made from top-of-the-range Premium Quality 330gsm board for optimum flexibility… [Read More]
---
Simon Lucas Premium Quality Playing Cards – Emporium – Large Index Faces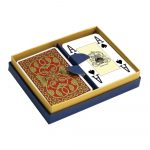 Emporium with Large Index Faces The playing cards Emporium with Large Index Faces have been specially developed for bridge players wanting bigger print cards.  These low vision cards are perfect for games of bridge with players who need extra visible cards. Also they are great for regular players because they're so easy to read.  The… [Read More]
---
Simon Lucas Premium Quality Playing Cards – Emporium – Petrol Blue and Purple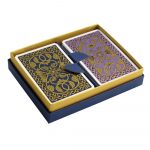 Emporium Playing Cards Petrol Blue and Purple The Emporium Playing Cards Petrol Blue and Purple are a heavenly combination of colours!  Intense petrol blue and gold beside majestic purple and gold, it's not difficult to see why these cards are so popular. In addition, we've packaged the twin pack in a handmade presentation box in… [Read More]
---
Simon Lucas Premium Quality Playing Cards – Emporium – Purple and Green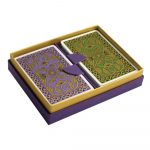 Emporium Playing Cards Purple and Green The Emporium Playing Cards Purple and Green are a heavenly combination of colours! Majestic purple and gold beside verdant green and gold, it's not difficult to see why these cards are so popular. In addition, we've packaged the twin pack in a handmade presentation box in equally heavenly colours:… [Read More]
---
Simon Lucas Premium Quality Playing Cards – Emporium – Pink and Duck Egg Blue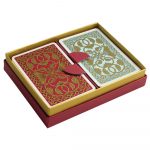 Emporium Playing Cards Pink and Duck Egg Blue The Emporium Playing Cards Pink and Duck Egg Blue are a heavenly combination of colours!  Sumptuous pink and gold beside gentle duck egg blue and gold, it's not difficult to see why these cards are so popular. In addition, we've packaged the twin pack in a handmade… [Read More]
---
Simon Lucas Premium Quality Playing Cards – Emporium – Green and Petrol Blue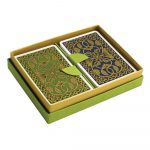 Emporium Playing Cards Green and Petrol Blue The Emporium Playing Cards Green and Petrol Blue are a heavenly combination of colours! Verdant green and gold beside intense petrol blue and gold, it's not difficult to see why these cards are so popular. In addition, we've packaged the twin pack in a handmade presentation box in… [Read More]
---
Simon Lucas Premium Quality Playing Cards – Emporium – Purple and Pink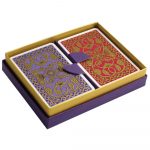 Emporium Playing Cards Purple and Pink The Emporium Playing Cards Purple and Pink are a heavenly combination of colours!  Majestic purple and gold beside sumptuous pink and gold, it's not difficult to see why these cards are so popular. In addition, we've packaged the twin pack in a handmade presentation box in equally heavenly colours:… [Read More]
---
Simon Lucas Premium Quality Playing Cards – Emporium – Green and Vanilla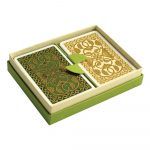 Emporium Playing Cards Green and Vanilla The Emporium Playing Cards Green and Vanilla are a heavenly combination of colours! Verdant green and gold beside elegant vanilla and gold, it's not difficult to see why these cards are so popular. In addition, we've packaged the twin pack in a handmade presentation box in equally heavenly colours:… [Read More]
---
Simon Lucas Premium Quality Playing Cards – Emporium – Green and Pink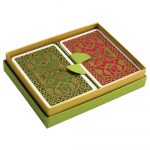 Emporium Playing Cards Green and Pink The Emporium Playing Cards Green and Pink are a heavenly combination of colours! Verdant green and gold beside sumptuous pink and gold, it's not difficult to see why these cards are so popular. In addition, we've packaged the twin pack in a handmade presentation box in equally heavenly colours:… [Read More]
---