Description
Round Baize Table Cloth – Modern Interiors – Made to Measure
Are you looking for a table cloth tailor-made for the size of your circular table? Then our made-to-measure Round Baize Table Cloth – Modern Interiors is for you. The Modern Interiors cloths are a stylish collection that are handmade with care by us in our workshop in Devizes, from top-quality British baize (95% wool). In a choice of four colourways, the cloth has a quality textured braid border that contrasts and compliments the colour of the baize cloth you choose.
Measure Your Table
Ordering your made-to-measure Modern Interiors Baize Table Cloth is very easy:
Choose the colour of cloth you would like. The choices are green, blue, burgundy and black.
Measure the diameter of your table top in centimetres and type the number into the text box. (Edge to edge across the widest part of the circle is the diameter).
Measure from the top of the table downwards and decide how much drop you'd like your cloth to have. The drop is the amount the cloth will overhang. Type this number into the second text box. We will add this amount all around the edge of your cloth (so if you choose 20cm, your cloth will evenly overhang your table by this amount all the way round).
When you're happy with your choice and you've double-checked the measurements are correct, add the cloth to your basket and complete the order.
Oval Baize Bridge Cloths
If you need a bespoke cloth for a table that's oval, we can make one to fit. Please measure your table top and call us on 01380 829922 to discuss your requirements. If you prefer to email, please use our contact us form.
Baize, Not Felt
The fabric we use for all our baize cloths is top-quality British-made baize which is 95% wool and 5% nylon.
There is a lot of confusion about the difference between baize and felt. This isn't surprising when you search online and find many suppliers describing felt as baize, or a fabric as 'baize felt' or 'felt baize'. It's important to know whether you're buying baize or felt, because the two fabrics are very different.
Felt is a lightweight fabric made from matted fibres of either wool or a synthetic. Being matted rather than held together in a tight weave, the fibres easily fluff up or 'pill' if rubbed. On the other hand, baize is a strong, dense and hard-wearing fabric made from woven strands of wool. If it's top-quality, such as the fabric we use to make our Baize Bridge Cloths, it doesn't pill and it will look great and last for many years. There really is no comparison between felt and the far superior baize. You can purchase a Baize Bridge Cloth from us with complete assurance that you are buying a top-quality item.
Want to know more?
Read our blog post Baize or Felt? A Guide to Buying Wisely.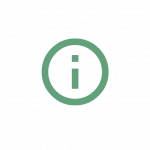 Important Note:
Personalized products are not returnable or refundable. Personalized products are not returnable or refundable. Please double check the size of your table before adding this product to your basket.
Review our Made to Measure Round Baize Bridge Cloth
We always love to hear from our customers and leaving a review is quick and easy. Just simply click on the "Reviews" tab above!