Nov 5th
Bridge Supplies Catalogue
If you haven't recieved a Simon Lucas Bridge Supplies 2020 Catalogue – that's because we haven't sent one out this year. We'll explain why…
---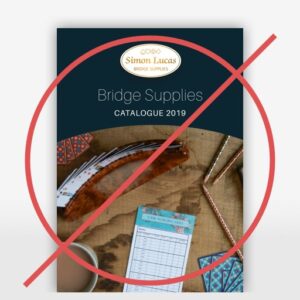 A Little Background
As you may or may not know – We care deeply about the environment and the collapse of eco-systems due to business activity. Each of us that works here are all taking massive personal steps to reduce our consumption and lower our carbon footprint as well.
Our environmental policy has been at the core our business now for the last three years and we have been working steadily to make Simon Lucas Bridge Supplies a greener company.
We're aiming towards becoming a B Corporation but we need to take further steps before we can begin the application to do this.
The Catalogue Dilemma
For us our yearly bridge supplies catalogue is a driver of sales and so there is a financial incentive each year to produce one and send it out to our mailing list. However, no matter how recycled the paper is, or how green the inks are, all of us who work here, are all too aware of the very real carbon and environmental footprint our catalogue has.
It is one decision we have taken to do our bit in greening up along with planting trees in our Trees for Life grove to offset other sides of our business that are less green.
This is why for the first time in 30 years we've not produced and sent out a Bridge Catalogue.
We have however, reduced some of our prices and done some amazing offers to pass on some of catalogue printing and mailing savings directly back to you, our customers.
Nervous About Ordering Online?
If you're not wanting to buy online directly you can always browse the products on our website and then give us a call on 01380 829922 with your order
Thank you for your continuing support.
Andrea and Simon