Feb 10th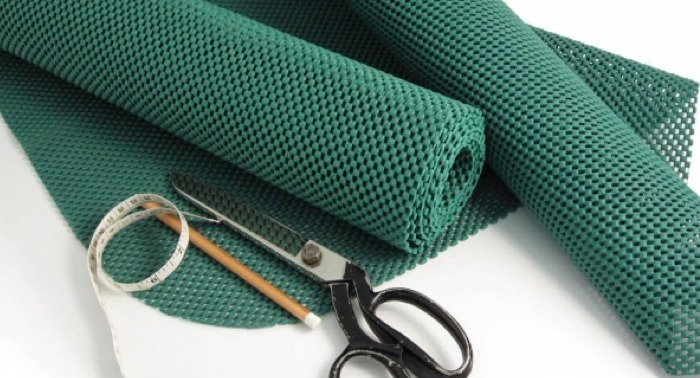 Top 10 Uses for Non-Slip Matting
Do you use non-slip matting around the home?
I know, I know, it sounds so utilitarian and uninteresting. But take my word for it, once you start using it, you'll find it has a multitude of uses for non-slip matting and you'll wonder how you ever managed without it!
My Top 10 Uses
1. No More Slipping Chopping Boards
Do you keep a stack of chopping boards propped up at the back of the kitchen work surface like I do? Do they periodically slide down with a clatter and make you jump out of your skin? Hats off to my mum for discovering this idea first – non-slip matting is the answer! Just cut a rectangle of matting the same width as your largest chopping board, and deep enough to stand them all on and use it as a mat beneath the pile of boards to hold them in place. Works like a dream, even if they're standing at an acute angle.
2. Stop Things Rattling in Your Car
If you had to make a list of things that were annoying when you're on a long car journey, things that are continually rattling and jangling must surely be on it. His keys rattling in the glove compartment was certainly on my dad's list, but lined with a bit of matting, his keys jangle no more.
3. Rug Control
We have a rug and I'm sure it's alive. It creeps across the carpet and it's always heading for the front door in a bid for freedom. Keep your mats and rugs under control by cutting some squares of matting, 10 or 15cm should be sufficient, and dot them about on the carpet or hard floor beneath your rug. For larger rugs, you might find strips are more effective.
4. Neurotic Pet Confidence Booster
We have a dog who is very afraid of slipping on shiny floors. We hold her bed firmly in place with a piece of matting beneath. As it's really important that the bed doesn't move, we've cut the matting to the same size as the bed for maximum grip.
5. Lid Loosening Leverage
Do food producers think it's their duty to provide an exercise regime with their jarred offerings? After a 5-minute battle to get a lid off a pot of jam, it certainly feels like it. Cut a circle of matting large enough to cover the top and sides of the lid and keep it handy in the kitchen for the next time you have a troublesome preserve. For a bit of extra help, cut a second circle and use a piece in each hand – one on the lid and one on the jar.

6. Bye Bye Cushion Cursing
I can't be the only person who's put a nice plump, round cushion on a polished wooden chair, then to the amusement of everyone else, pushed it off the seat as I sit down. Pop a piece of matting on the chair first and the cushion will stay put. If you've got proper seat cushions tied to your wooden chairs, you'll know that over time the ties undo or start to come away at the seams. A piece of matting beneath each cushion will stop them moving and will take the strain off the ties.
7. Settee Seating Management
Do the seat cushions on your settee slide forward over the course of a day or two? Put some matting underneath them. The bigger the piece you use, the more it will grip the cushion.
8. Add Security to Your Craft Projects
Non-slip matting is great for attaching to the bottom of your sewing and craft projects such as homemade slippers, play rugs, coasters and placemats to make them safer to use. The matting is easy to stitch through, so it can just be held in place with a line of stitching.
9. Breaking the Laws of Physics
When you open a drawer, I'm sure that if I brushed up on my physics I'd find that one of Newton's laws dictates that the contents of the drawer will inevitably slide to the back. Flying in the face of science, I line my cutlery drawer with non-slip matting which holds it all in place, making it so much easier to find what you're looking for.
10. Table Cloth Catcher
As a specialist gaming retailer, we supply non-slip matting to hold gaming cloths and bridge cloths in place if you're playing on a polished or shiny surface. I'm not sure about all non-slip matting, but the one we supply doesn't react with wood finishes, so you can use it beneath your table cloth on wood, glass, metal or vinyl – in fact any shiny surface. Put the matting down first, then your cloth, and it'll be held in place beautifully. As it's cushioned, it makes it easier to pick up your cards too.
What are Your Uses for Non-Slip Matting?
We'd be really interested to hear your uses for non-slip matting. Please share your ideas using the comments box below.