Dec 18th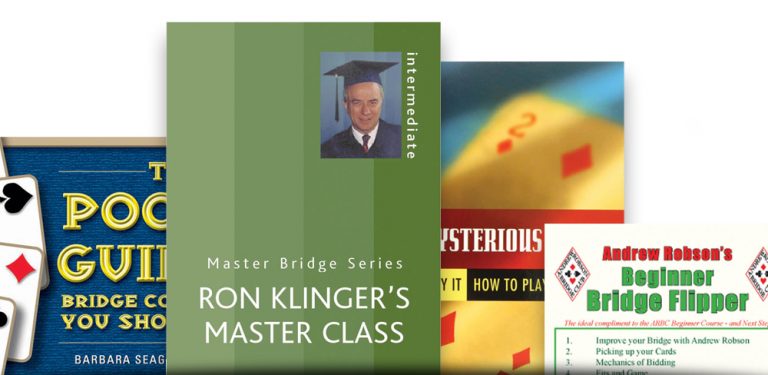 Top 5 Bridge Books – Our Top Sellers
BOOKS are a great way to get to grips with some of the complex aspects of the game. We stock a wide variety on our online shop and we thought we'd share the top 5 bridge books our customers buy for themselves or for gifts.
150 tips for intermediate players from Britain's best known contract Bridge player, teacher and writer. After spending a year or two learning the game of bridge, few of us progress to expert level, so Andrew Robson's Tips for Intermediates is a welcome book for most of us!
Format: Hardback
Price: £12.99
With a name like Andrew Robson's it's unsurprising that there are more than one of his books in our Top 5! This second book — Andrew Robson's Beginner Bridge Flipper — is an excellent, easy to use flipper for beginners, with all the information to get you properly started.
Format: Wirobound
Price: £10
Another title aimed at intermediate through to advanced players, The Mysterious Multi: How to Play It, How to Play Against It contains new uses for all your opening two-bids – and more! The Multi principle – the idea that one can encompass a variety of different meanings – has a well-established history. In the modern game, its most popular applications are the Multi Two Diamonds opening, and the Multi Landy (Woolsey) defense to an opening 1NT.
Format: Paperback
Price: £13.99
Ron Klinger has brought together and amplified the ten key topics covered in his recent successful Master Class tour sponsored by the EBU. Ron Kinger's Master Class is a hugely stimulating book for all players by one of the world's leading Bridge teachers.
Format: Paperback
Price: £7.99
Our final book in this top 5 is Andrew Robson's Essential Bridge Flipper, an excellent, easy to use flipper for intermediate players, with all the information you need to play a decent game of Bridge.
Format: Spiral Bound
Price: £10
---
If you're after new reading material but don't have shelf space then e-books might be just thing! Read our round up of the Top 10 E-Books for Bridge for iPad or iPhone
---
What Are Your Top 5 Bridge Books?
What bridge books do you turn to for reference or to improve your game? We'd love to hear in the comments below